ENHANCING THE LIVES OF THE CHILDREN AND FAMILIES OF MARTIN COUNTY, TO ENABLE THEM TO ATTAIN THEIR FULL POTENTIAL.
Thank You Martin County Homeowners!
Did you know… Children's Services Council of Martin County receives Ad Valorem Taxes from your Homestead, and we reinvest those funds to organizations that serve our communities children and families.
CSCMC would like to take this opportunity to THANK all Martin County Homeowners for your continued support for over 30 years.
Learn how much you are giving back to CSCMC and where your tax dollars are at work. We are a proud partner with the Martin County Property Appraiser office, for more information on your property, you can visit their site at: https://www.pa.martin.fl.us/ Input your home address to view your TRIM NOTICE and see what you are giving to the children and families of Martin County each year.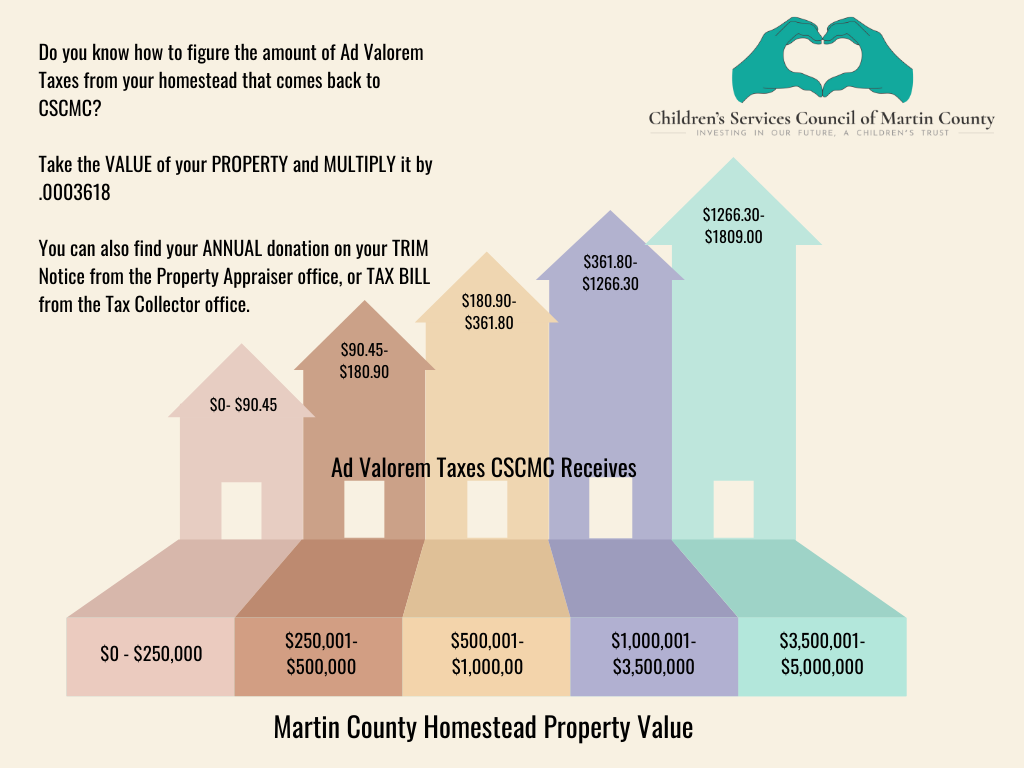 211 Palm Beach/Treasure Coast
Banner Lake Club, Inc.
City of Stuart Community Services Department
David Cardno Father & Child Resource Center (Martin County Healthy Start Coalition, might just be under their organization)
Guardians for New Futures, Inc.
LEADERship Martin County, Alumni Foundation for Youth, Inc.
Library Foundation of Martin County
Prime Time Palm Beach County, Inc.
Summer Slide Prevention
University of South Florida Board of Trustees
Young Men's Christian Association of the Treasure Coast, Florida, Inc.
Workforce Development Board
Stay engaged by signing up for our Community Connection
The Story of the CSCMC's Origination
The Children's Services Council of Martin County (CSCMC) is an Independent Special Taxing District created by the Martin County Board of County Commissioners in June 1988. The voters of Martin County approved taxing authority by referendum on November 1988 by 62 percent, and on November 4, 2014, voters reauthorized this by nearly 77 percent.